The music industry is booming in terms of content, creativity, and experimentation.
Bhushan Kumar
's production house has always been a pioneer, when it comes to introducing new artists or making a song stay relevant for a lifetime. While his film, '
Mumbai Saga
' released recently, after almost a year of lockdown, it was the song 'Lut Gaye' which has become a playlist staple.
Jubin Nautiyal's mesmerising voice, Emraan Hashmi's charismatic screen presence and Bhushan Kumar's strong backing is what made the entire creation a success. As the song continues to earn rave reviews, Jubin and Bhushan sat down exclusively with ETimes to talk, at length, about keeping their music production's legacy intact, future of independent music in the country, and also revealed how they are revelling in the massive success of their latest hit 'Lut Gaye'.
Congratulations for 'Lut Gaye'. I honestly feel you guys were made for each other to make that song a success, and Emraan Hashmi checked the final box! How has the entire experience been?

Bhushan : I emotionally invest myself in every song! It feels extremely overwhelming to see the numbers going up for 'Lut Gaye'; these are unbelievable numbers! I've never seen such numbers, not even during 'Kabir Singh' and 'Aashiqui 2' which were the best albums in the past 5-6 years.
Honestly, it just wasn't Jubin and me. It's total teamwork! The lyricists and the composer have also done a brilliant job. During the pandemic, I have worked mostly with Jubin, and by far, this has been the last number to have such an immense popularity in a short time span. And obviously, I somewhere owe it to Emraan too! After a long time, I did this song with him. In fact, he did another song with me 'Main Rahoon Ya Na Rahoon', which was again a blockbuster. He definitely brings magic. He went on my conviction.
And I would also like to share that Jubin is the only artist to have maximum number of streams across his 10-12 songs within the last 8-9 months. It's unbelievable! I even did songs featuring him, letting him share the screen space with some good TV actors and models, and those songs have worked well too.
All in all, with the rapid popularity and emergence of non-filmi songs, all of my singers and artists are getting that visibility since they are acting too. They are getting a lot of recognition even as singers, because earlier, it always felt like it's the actor's song and he's singing, whereas he/she was only lip-syncing. I have done so many singles with Jubin; earlier he used to be so reluctant in shooting, then I pushed him.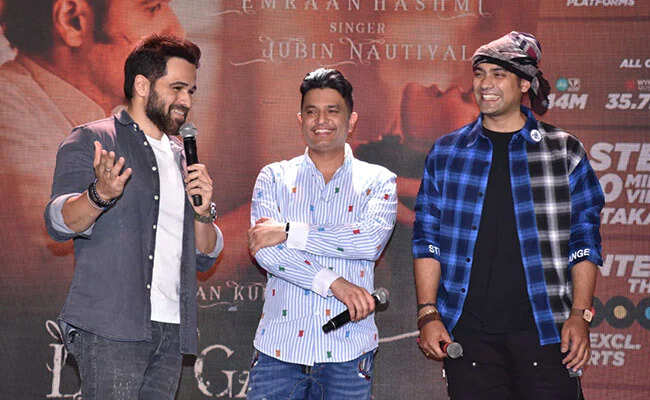 Jubin, what's your creative process like?
Jubin: By the time a particular piece reaches me, Bhushan has already kept an entire prologue, setting and the script ready. The piece which I am given to sing has already been refined, creatively checked along with the chorus part and background tone, music etc. I get the song at a later stage. And honestly, I don't think I feel the need to pinpoint anything in what Bhushan creates. I aspire to learn from him and have already.
When you have a strong captain of the team like Bhushan, who's driving himself with so much of gut and conviction, good results are bound to come. As artists, we also get a lot to learn from him. It's not an easy job to continuously deliver hits, there's just so much more that goes behind every song process. There are so many people out there who are trying to do a job as close to him, but they are not able to get even close to him.


You have already become a popular face in the music industry. What's been the biggest takeaway from your journey so far?
Jubin: Honestly, I never thought I could experiment with these many genres or sing such songs. I always thought that I was only capable of singing sad and romantic songs, like when Bhushan made me sing a kawwali. There were some decisions I could have never really taken; I needed a push, had it not been for Bhushan ji, I don't think I could have grown this much as a musician.
Jubin had earlier shared how, due to the latest trends, future of independent music is pretty dicey in India unless they are backed by an strong label. And it thus feels like music is being commercialised. D
o you feel that without the backing of a music label, too, indie music can survive in India?
Bhushan: Honestly, it's okay to have this help and backing. I don't want to comment directly on that because there are so many artists who are doing it themselves. But obviously, as I told you, it's teamwork. Everybody's experience matters a lot. Like today, not all songs survive.
Thankfully, I have got the ear to select music, which I think I have inherited that from my father. That matters a lot, when you are recording a song. With all respect to Jubin, there have been times when he has come to me and suggested something, and even recorded and released songs, but they didn't work.
I am not calling myself a perfectionist; it's just that having a strong backing actually helps a song do well. If that means that it commercially does well too, let it. The song will be revisited and stay longer. Teamwork is very important. A music label who has that kind of knowledge is very, very important for the artist to grow on that level.
Otherwise, all the artists get into that zone of doing things themselves, sometimes the song works, sometimes it doesn't. I will not name these artists, but there have been times they release 10-20 songs of their own, and only one becomes a hit.
Singers ke khud ki conviction se cheeze nahi hoti (Singers' conviction doesn't make things work), you definitely need experienced support"
You released 'Lut Gaye' way before the trailer dropped, like it was done in the '90s. Even 'Aashiqui' album was released six months before the film. So, now following that pattern, how has the audience received the movie?
As a producer, I took a chance, I wanted to revive the theatre culture with a method which initially ruled the audience's heart! People are scared to go watch movies in the theatres, the films are anyway not doing much business. With that risk in mind, I released 'Mumbai Saga' and will be releasing 'Saina' (now released).
I don't care about the numbers and the profit and loss margin. The market needs to be revived again. People should start coming again. And these songs and all have always worked in the past, right?
So this was an idea making a pre-story with the song, with respect to the movie's story – A character's prequel story using the song as a medium. Hence the song stood out and caused a craze for watching it in the film. I've got to know that the people are shouting and extremely elated with song playing in the movie, especially in the single screen theatres.


How does a brand like T-Series, which has a legacy to live up to and battle new competition, stay relevant?
I have never worried about the competition. I have music sense which has come from my father. I am blessed and thankful that way.